A Life Worth Living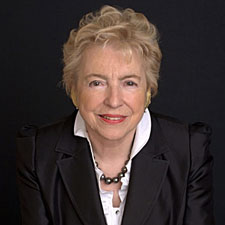 Dame Stephanie (Steve) Shirley is a workplace revolutionary and successful IT entrepreneur-turned-ardent philanthropist. In 1962, she founded an all-woman software company that pioneered remote working, upending the expectations of the time. It was ultimately valued at almost $3 billion and made 70 staff members millionaires.
Since retiring, Dame Stephanie's focus has been on philanthropy — especially autism and IT. She's brought three significant autism charities to sustainability, which together employ approximately 1,000 people: Autistica, Prior's Court, and Autism at Kingwood. Her TED Talk, "Why Do Ambitious Women Have Flat Heads?" has over 2 million views. She is the Author of two books, Let It Go and So To Speak, and every penny from the books sold goes to Autistica, the medical research charity she founded.
Here's a glimpse of what you'll learn:
How Dame Stephanie Shirley's background as a refugee influenced her life
Why Dame Stephanie started a software company, and how she elevated women in the process
How Dame Stephanie's name change came about — and what she did to make her employees millionaires
Dame Stephanie explains how her autistic son inspired her philanthropic work
The extraordinary stories presented in Dame Stephanie's books
Why do ambitious women have "flat heads?"
Andrea and Dame Stephanie talk about racism in the workplace, diversity and inclusion, and the challenges of motherhood
The best piece of advice Dame Stephanie has ever received and her advice to women trying to break the glass ceiling
The importance of value recruitment
Dame Stephanie's superpower and where to learn more about her
In this episode…
Women undertake many responsibilities in both their professional and personal lives. These may include being an entrepreneur, business leader, and mother. All of these responsibilities present unique challenges that women have to face and find solutions for.
Dame Stephanie Shirley has gone through these phases in her life. A child refugee at five years old, she procured determination and resiliency at a young age. Eventually, Dame Stephanie started a company to help women in the IT space operate in more inclusive and diverse workplaces, became a mother, and started a foundation to provide support to autistic kids. She embraced all the challenges she faced, became stronger and wiser over the years, and continues working toward a more equitable, generous future.
In this episode of the Lead Like A Woman Show, Andrea Heuston interviews Dame Stephanie Shirley, an IT entrepreneur and philanthropist, about her life story, entrepreneurship, and philanthropy. Dame Stephanie talks about her motivation to start a software company in 1962, her books, and the importance of value recruitment. You don't want to miss these inspirational, insightful stories.
Resources Mentioned in this episode
Sponsor for this episode…
This episode is brought to you by Artitudes Design by Andrea Heuston. Artitudes Design is an award-winning creative agency that has been creating visual communication for Fortune 500 companies for over 25 years. They have worked with notable companies such as Microsoft, Starbucks, Expedia, and have also served startups and nonprofit organizations.
They specialize in connecting speakers with audiences by creating visual value with presentations and through the creation of motion graphics, video, and content.
To learn more about Artitudes Design, visit their website today. Checkout their portfolio to see their previous projects, and contact them today to find out how they can help you bring your business a cut above the rest.