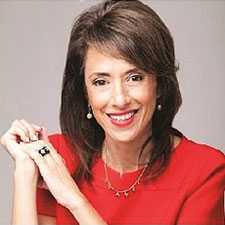 Diane Najm is the Founder and CEO of PhotoPad. After practicing social work for over 20 years, Diane leapt into the entrepreneurial world to launch two tech platforms in the photo and digital content marketing space. Her first product was PhotoPad, a consumer photo app on Facebook in 2010, and PhotoPad for Business in 2016.
Diane's passion and leadership continue to empower women in business by providing resources and connections. She serves on the board of directors of Women in Wireless and Women in Tech, is a past director of Founder Institute, is a mentor to startups, and was invited to the Seattle White House Digital Tech Summit. Diane regularly speaks about entrepreneurship and leadership, and she's passionate about making the world a better place.
Here's a glimpse of what you'll learn:
Diane Najm's inspiration for creating PhotoPad and why her product targets women and small businesses
What led to the success of PhotoPad?
How Diane finds clients for her business
Diane and Andrea talk about some mistakes they made in their businesses and what they learned from the experience
Benefits of building and maintaining a great company culture
Diane's background in social work — and how she transitioned to entrepreneurship
The best piece of advice Diane has received from a mentor and her advice to women looking to go into entrepreneurship
Diane's superpower and contact details
In this episode…
Businesses are never perfect, and the smartest (and most successful) entrepreneurs see the various failures in business as stepping stones to greatness. Such experiences are meant to make you stronger, wiser, and a better business owner. However, it is important that entrepreneurs don't get stuck in the past or compare themselves to others because this limits their success.
Diane Najm believes in thinking big, believing in yourself, and growing a business with a big vision. She advises women to own their dreams and be persistent in going after them. For her, thinking big also means having the right people around you from the time you start your business. Diane also guides others to trust their intuition, not only when hiring new employees, but also when it is necessary to fire some of them.
Diane Najm, the Founder and CEO of PhotoPad, joins Andrea Heuston in this episode of the Lead Like A Woman Show to talk about the importance of thinking big when starting and building a business. Diane also talks about her background in social work, developing a photo app, having the right team, and building a company's culture.
Resources Mentioned in this episode
Sponsor for this episode…
This episode is brought to you by Artitudes Design by Andrea Heuston. Artitudes Design is an award-winning creative agency that has been creating visual communication for Fortune 500 companies for over 25 years. They have worked with notable companies such as Microsoft, Starbucks, Expedia, and have also served startups and nonprofit organizations.
They specialize in connecting speakers with audiences by creating visual value with presentations and through the creation of motion graphics, video, and content.
To learn more about Artitudes Design, visit their website today. Checkout their portfolio to see their previous projects, and contact them today to find out how they can help you bring your business a cut above the rest.