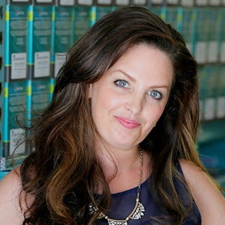 Lara Nikola is the Founder and President of Smart Sips Coffee, an exciting brand of unique flavored coffees, decaf, lattes, cappuccinos, and hot chocolate. She is an award-winning entrepreneur who has been featured on Good Morning America, where she swam with the sharks from Shark Tank. She has been interviewed on Fox and Friends, Money Magazine, and iHeartRadio. Lara was featured on the cover of NJBIZ and in ROI-NJ. Her products have been featured in US Weekly and Reader's Digest.
Lara left her corporate advertising career eight years ago to start Smart Sips Coffee and has grown the company into a successful national brand. Her diverse marketing expertise helped her level the digital playing field and compete in the highly competitive coffee space. She created a niche building a brand based on creativity, innovation, and products that insert excitement into the daily coffee drinking routine. She is a member of the WPO, Women Presidents' Organization, and a Women's Business Enterprise National Council certified company. Through her exemplary leadership, exceptional community advocacy work, and sustainable competitive edge, Lara has received numerous outstanding accolades and recognition. She is a New Jersey native, wife, and mother of two.
Here's a glimpse of what you'll learn:
Lara Nikola talks about her drive to become an entrepreneur and start Smart Sips Coffee
Lara discusses working with her husband, her coffee flavors, the value of listening to customers, and what she is currently working on
How Lara leads like a woman — and how Women Presidents' Organization (WPO) has impacted her life and business
The most impactful piece of advice Lara has received from a mentor
What is the most challenging part of growing and scaling a business?
Lara's advice for young females going into entrepreneurship
What Lara loves most about her work and where to find her flavored coffee products
Lara talks about her superpower and shares her contact details
In this episode…
Building a new business can be very challenging for first-time women entrepreneurs, especially if they don't have a supportive community of fellow business owners. Some people may not understand what the entrepreneur is trying to build and may even try to discourage them from pursuing their dreams.
Having gone through this same challenge and learning from experience, Lara Nikola empowers other women and helps provide the resources they need to build successful businesses. She advises and encourages them to keep moving forward despite all the obstacles they face in their entrepreneurial journey. She also encourages them to embrace failure, pivot when things hit a wall, and pay attention to what their customers say.
Lara Nikola, the Founder and President of Smart Sips Coffee, joins Andrea Heuston in this episode of the Lead Like A Woman Show, where she talks about building a flavored coffee brand and empowering women leaders. Lara also explains why she became an entrepreneur and talks about some of the challenges she has faced scaling her business. Stay tuned for more!
Resources Mentioned in this episode
Sponsor for this episode…
This episode is brought to you by Artitudes Design by Andrea Heuston. Artitudes Design is an award-winning creative agency that has been creating visual communication for Fortune 500 companies for over 25 years. They have worked with notable companies such as Microsoft, Starbucks, Expedia, and have also served startups and nonprofit organizations.
They specialize in connecting speakers with audiences by creating visual value with presentations and through the creation of motion graphics, video, and content.
To learn more about Artitudes Design, visit their website today. Checkout their portfolio to see their previous projects, and contact them today to find out how they can help you bring your business a cut above the rest.