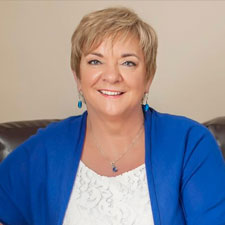 Stephanie Dalfonzo is an integrative hypnotist, coach, and speaker. She has spent over 20 years researching simple ways to calm stress, anxiety and fear. She has authored a very timely book called Goodbye Anxiety, Hello Freedom: How to Build Resilience and Overcome Anxiety.
Stephanie helps women heal and find freedom from the past, reclaim their lives, and create the life they deserve with ease and joy. Her journey has taken her through several career transitions from being a celebrity radio DJ to the proprietor of a successful hypnosis practice for 10 years, and ultimately, becoming an anxiety expert.
Here's a glimpse of what you'll learn:
What led Stephanie Dalfonzo to hypnotism and her success in helping other people
Stephanie talks about her book, Goodbye Anxiety, Hello Freedom: How to Build Resilience and Overcome Anxiety
How Stephanie has been preparing for this time in history, her Resilience in Challenging Times webinar, and how she is using her work for the common good
Stephanie shares her experience as a celebrity DJ and why she left the radio career to become a coach
Stephanie explains why she considers her lack of business training as her biggest mistake and what she learned from it
How gratitude and being positive can shift things for you
Stephanie discusses the importance of digging for the personal script in each person's life
Why it's important for women to have a mentor and why Stephanie considers her ability to connect with people and elevate them to their freedom point as her superpower
In this episode…
No one ever goes through life unscathed. People are bound to make mistakes and failures at some point in their lives but what separates successful people from the not–so-successful ones is their determination to rise up, learn from their mistakes, and try again. People who find success have learned that the only way to live life is to move forward.
And more often than not, women have a tendency to beat themselves up after experiencing failure. They are often inclined to judge themselves harshly and this leads to unhappiness and unproductivity and this is something that Stephanie hopes to remedy and turn around so that instead of becoming miserable, they end up as the best version of themselves.
Andrea Heuston is joined by Stephanie Dalfonzo, a hypnotist and coach, on this episode of Lead Like a Woman Show to talk about the power of hypnosis and being kind to oneself. Stephanie also discusses her book and how she's preparing for her webinar, how she shifted her career from being a celebrity radio DJ to a coach, why it's important to be kind to yourself, and the value of asking "What's right right now?" Stay tuned.
Resources Mentioned in this episode
Sponsor for this episode…
This episode is brought to you by Artitudes Design by Andrea Heuston. Artitudes Design is an award-winning creative agency that has been creating visual communication for Fortune 500 companies for over 25 years. They have worked with notable companies such as Microsoft, Starbucks, Expedia, and have also served startups and nonprofit organizations.
They specialize in connecting speakers with audiences by creating visual value with presentations and through the creation of motion graphics, video, and content.
To learn more about Artitudes Design, visit their website today. Checkout their portfolio to see their previous projects, and contact them today to find out how they can help you bring your business a cut above the rest.