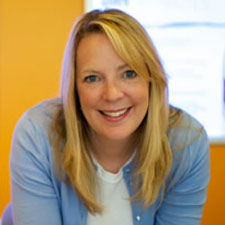 Sharelle Klaus is the Founder and CEO of DRY Soda Company. When she was searching for a sophisticated non-alcoholic beverage that wasn't cloyingly sweet or made with artificial flavors, she realized that the ultra-competitive beverage market lacked one. She decided to make one and in 2005, she launched DRY Soda Company. Her brand has quickly become a disruptor in the sparkling beverage sector with its high end brand and deliciously surprising flavors like lavender, ginger and cucumber. DRY Soda is now sold in retail outlets across the country, including Safeway and Kroger, and can be found on the menu of many top restaurants and bars.
In her spare time, Sharelle likes to travel and find adventure. Road trips and international trips are her passion. She is also a doting grandmother, mother and a vocal supporter of entrepreneurship and women. She holds a Bachelor's degree from Seattle Pacific University.
Here's a glimpse of what you'll learn:
Sharelle Klaus shares why she decided to start DRY Soda Company and what led to her success
Sharelle talks about the flavors they offer and how they came up with them
Why a national distributor referred to Sharelle as a relentless bitch
What it's like to be a woman in her industry and how Sharelle elevates and helps fellow women entrepreneurs in the beverage industry
Why access is the most significant barrier women face in becoming leaders
Sharelle talks about her Airstream and her love for adventure and camping
The best piece of advice Sharelle has received from a mentor and her advice to a woman with an industry-disrupting business idea
Sharelle explains why her ability to see the good in anything is her superpower and where people can learn more about DRY Soda
In this episode…
For any woman starting out in entrepreneurship, it's very important for her to have a vision. She must believe in it and be relentless as she moves towards it, and she needs to keep going in spite of all the obstacles and tears along the way.
Most women face different challenges in their journey of entrepreneurship and sometimes, it can get overwhelming. Sharelle believes that the best solution to overcome this is to not make quitting an option. She also highly advocates networking and being part of support or accountable groups, because from her own experience, these have been a tremendous source of help for her and her business.
Join Andrea Heuston in this episode of the Lead Like a Woman Show as she talks with Sharelle Klaus, Founder and CEO of DRY Soda Company, about her success story as a woman in the beverage industry. They also discuss the benefits of building your network, the challenges Sharelle faced in growing her company, the sexist men she encountered along the way, and her love for adventure. Stay tuned.
Resources Mentioned in this episode
Sponsor for this episode…
This episode is brought to you by Artitudes Design by Andrea Heuston. Artitudes Design is an award-winning creative agency that has been creating visual communication for Fortune 500 companies for over 25 years. They have worked with notable companies such as Microsoft, Starbucks, Expedia, and have also served startups and nonprofit organizations.
They specialize in connecting speakers with audiences by creating visual value with presentations and through the creation of motion graphics, video, and content.
To learn more about Artitudes Design, visit their website today. Checkout their portfolio to see their previous projects, and contact them today to find out how they can help you bring your business a cut above the rest.