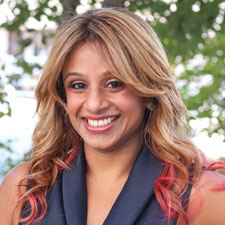 Sejal Lakhani-Bhatt is the CEO of TechWerxe, a leading IT company working to bridge the gap between quality and affordability with customized solutions for small to medium-sized businesses. After graduating from the University of Buffalo with a degree in legal studies, Sejal began her career working for major global banking institutions in the regulatory and compliance divisions, as well as on the trading floor. For 12 years, she traveled around the world, working for leading financial firms in Japan, London, Hong Kong, and Singapore.
In 2012, she left the banking industry to join TechWerxe, an IT company founded by her husband in 2008. In 2014, Sejal took over the operations, sales, and marketing of TechWerxe and became CEO while her husband focused on its IT services. Under her leadership, TechWerxe earned recognition as a top 100 MSSPs (Managed Security Service Providers), top 500 MSPs (Managed Service Providers), and received numerous other industry awards.
In March of 2019, Sejal's husband suddenly passed away from a heart attack at age 39. Committed to upholding their company mission, she spent months dissecting all aspects of TechWerxe to analyze knowledge gaps and determine the changes needed to move the company forward. She spent the past year and a half restructuring TechWerxe to preserve her and her husband's long-term goals for the company. As a result, TechWerxe did not lose a single client during the transition period. Sejal is devoted to her two young boys and committed to showing them the strength women can have in the face of adversity.
Here's a glimpse of what you'll learn:
Sejal Lakhani-Bhatt's background in the legal and financial sector
Sejal explains the origins of TechWerxe, her transition into the company, and her experience working with her husband
What led to the success of TechWerxe?
How Sejal managed her business and personal life after the death of her husband
What Sejal is currently focusing on and how the pandemic has impacted her business
What most people don't know about Sejal Lakhani-Bhatt
How Sejal leads like a woman, and her advice to women just starting their careers
Sejal talks about her superpower and shares her contact details
In this episode…
While grieving the loss of her husband, one of the best pieces of advice Sejal Lakhani-Bhatt received from a friend was, "Every decision you make will be the right decision." It was a difficult time, and she wasn't sure if her choices were right for her family and business. Her friend's words helped her realize that she could always change things later if she didn't like how something turned out.
Through her experience working in different companies and industries, Sejal learned the importance of not making excuses and the value of trusting herself. She advises women not to stress about doing everything perfectly the first time because it's okay to make mistakes and learn from them. The idea is to get as much done as possible and to keep refining it. Sejal also encourages women to ask for what they want without fear of rejection because she believes that you get what you ask for and what you go for.
In this week's episode of the Lead Like A Woman Show, Sejal Lakhani-Bhatt, the CEO of TechWerxe, is interviewed by host Andrea Heuston about how she leads like a woman professionally and personally. Sejal also talks about the importance of women taking care of themselves, taking charge of their lives, and embracing their imperfections. Plus, Sejal reveals how to tackle the trash in your head. Stay tuned!
Resources Mentioned in this episode
Sponsor for this episode…
This episode is brought to you by Artitudes Design by Andrea Heuston. Artitudes Design is an award-winning creative agency that has been creating visual communication for Fortune 500 companies for over 25 years. They have worked with notable companies such as Microsoft, Starbucks, Expedia, and have also served startups and nonprofit organizations.
They specialize in connecting speakers with audiences by creating visual value with presentations and through the creation of motion graphics, video, and content.
To learn more about Artitudes Design, visit their website today. Checkout their portfolio to see their previous projects, and contact them today to find out how they can help you bring your business a cut above the rest.