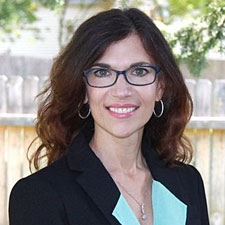 Deirdre Breakenridge is an author, entrepreneur, and CEO of Pure Performance Communications. As a 30-year veteran in PR, marketing, and branding, she has worked with senior leaders at many Fortune 500 companies. She is a career-long storyteller and strategist helping brands and professionals to ignite more energy around their communication, lead pressing media conversations, and grow influence in the market. Deirdre has been working with leaders for decades to create award-winning PR and marketing programs and building relationships based on loyalty and advocacy.
Deirdre is also the author of seven business books sharing stories and advice to navigate changing consumer behavior and an evolving media landscape. Her most recent book, Answers for Ethical Marketers, was released in April 2021. Her other book, Answers for Modern Communicators, was recently named by BookAuthority as one of the "100 Best Storytelling Books of All Time." As an international speaker, Deirdre shares her research and career journey in PR, marketing, branding, and social media communications. She has been blogging at PR Strategies for over 10 years and is also the host of the Women Worldwide podcast, which is in its sixth year with nearly two million downloads.
Here's a glimpse of what you'll learn:
What inspired Deirdre Breakenridge to start her own business?
Deirdre describes what's led to her success with building businesses in the PR and marketing space
Where the idea for the FEEL model came from and how it's impacted Deirdre's life and business
Deirdre talks about her new book, her writing journey, and the children's book she wrote with her husband
The projects Deirdre is currently working on and how she's using the FEEL model to help her clients
What resiliency means for Deirdre and how she leads like a woman
Deirdre shares her thoughts on trusting yourself, facing your fears, and connecting with an audience
The best piece of advice Deirdre has received from a mentor
Deirdre talks about her superpower and shares her contact details
In this episode…
Finding the way to your destination is important, but so is the journey you take to get there. For matters that fall outside of simple navigation, how do you determine the best way forward? And, if you find yourself in a leadership role, how can you be sure that you're staying true to yourself as you lead others?
For Deirdre Breakenridge, leading like a woman means embracing who you are, believing in yourself, and using that as a gift to lead others. She suggests that if you take the time to listen to your inner GPS and learn to trust it, it will guide you to new opportunities. Deirdre also recommends having well-defined values so that your inner GPS can guide you on ethical matters as well.
In this episode of the Lead Like A Woman Show, Andrea Heuston interviews Deirdre Breakenridge, the CEO of Pure Performance Communications, about the need for women to trust in their inner GPS. Deirdre also talks about building her business, dealing with a family tragedy, and writing several books. Plus, Deirdre explains why the FEEL model that she created is helping leaders and brands form better relationships.
Resources Mentioned in this episode
Sponsor for this episode…
This episode is brought to you by Artitudes Design by Andrea Heuston. Artitudes Design is an award-winning creative agency that has been creating visual communication for Fortune 500 companies for over 25 years. They have worked with notable companies such as Microsoft, Starbucks, Expedia, and have also served startups and nonprofit organizations.
They specialize in connecting speakers with audiences by creating visual value with presentations and through the creation of motion graphics, video, and content.
To learn more about Artitudes Design, visit their website today. Checkout their portfolio to see their previous projects, and contact them today to find out how they can help you bring your business a cut above the rest.