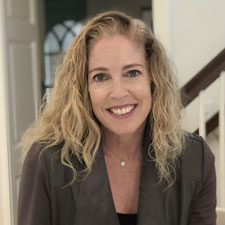 Nancie McDonnell Ruder is the owner of Noetic Consultants, a marketing consulting firm providing consumer research, brand strategy, marketing process and training expertise to BtoB and BtoC firms. Nancie has more than 25 years of marketing experience. She began her career at the Leo Burnett Company before starting Noetic Consultants in 2002. The word 'noetic' is related to one's intellect and thinking. Nancie chose this name for the company because it reflects her team's commitment to helping clients strategically think through their challenges, so that together, they can take the actions necessary to get the best possible outcomes.
Noetic Consultants' clients have included Samsung, PepsiCo, Nike, Marriott, Mayo Clinic, and Discovery Inc, amongst others. Nancie also serves as an adjunct professor at Georgetown University, and is the creator of the Noetic Art and Science Assessment.
Here's a glimpse of what you'll learn:
Nancie McDonnell Ruder shares how she started Noetic Consulting 18 years ago and what led to the company's success.
Nancie talks about her brand building framework and explains how she finds clients for her consultancy.
What Nancie's 'brand health diagnostic' tool is and how it benefits her clients.
Nancie explains why she decided to use the word 'Noetic' for her brand and why she wrote the book Jack and Jill Went Up the Hill: How Senior Marketers Scale the Heights Through Art and Science
Nancie recalls a pitfall or mistake she made in her business and what she learned from it.
What's the most challenging part of Nancie's job and what does she love most about it?
How to lead like a woman when working with high end brands.
Nancie's advice for women who are struggling to find their voice and be heard.
Nancie explains why superpower is perseverance.
In this episode…
According to Nancie McDonnell Ruder, a woman does not have to talk loudly when working with men in order to be heard or to establish herself as a good leader. A woman can effectively lead in her own unique and feminine way because leading doesn't have to involve dominating a conversation or being masculine. It's all about attitude and knowing how to inspire people to do what needs to be done.
Being a good leader involves collaborating well with other people and not being afraid to express who you are, most especially your feminine side. Although you should be assertive and express your opinions where necessary, what's most important is you finding your authentic voice which can be and will be heard by those around you. You don't have to be the loudest person in the room for you to be heard–you just have to be the one that makes the most sense and offers the best options for people to choose from. And the only way that you can do this is by defining who you are living by this standard everyday.
Nancie McDonnell Ruder, Founder of Noetic Consultants, is Andrea Heuston's guest in this week's episode of the Lead Like a Woman Show where she explains why women leaders should find their own authentic voice in order to become good and successful leaders. Nancie shares her own experience as a woman leader among men and how she started company. She also talks about her brand building framework, and how her brand health diagnostic tool can help her clients. Stay tuned.
Resources Mentioned in this episode
Sponsor for this episode…
This episode is brought to you by Artitudes Design by Andrea Heuston. Artitudes Design is an award-winning creative agency that has been creating visual communication for Fortune 500 companies for over 25 years. They have worked with notable companies such as Microsoft, Starbucks, Expedia, and have also served startups and nonprofit organizations.
They specialize in connecting speakers with audiences by creating visual value with presentations and through the creation of motion graphics, video, and content.
To learn more about Artitudes Design, visit their website today. Checkout their portfolio to see their previous projects, and contact them today to find out how they can help you bring your business a cut above the rest.