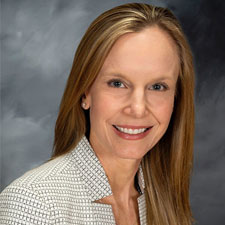 Dr. Kara Johnson is a physician, CEO, entrepreneur, philanthropist, and international public speaker. Educated at Harvard University and the University of California San Diego School of Medicine and trained at the world-renowned Bascom Palmer Eye Institute, Dr. Johnson was well-equipped to create Mountain View Medical Center, a multi-specialty medical center that brings world-class medicine to the people of Alaska. With an entrepreneurial spirit, Dr. Johnson grew Mountain View Medical Center from the ground up and created the most technologically advanced medical and surgical center in the state. 
But Dr. Johnson didn't stop there. She also founded the international nonprofit, Gift of Sight, and co-founded the Prevention of Global Blindness fellowship, which empowers recent graduates to join this international community. Most recently, she started Troy Medical, a novel telehealth company that offers long-term subspecialty medical care to remote areas. In addition to this, Dr. Johnson is a member of the Seattle chapter of Entrepreneurs' Organization (EO).
Here's a glimpse of what you'll learn:
What inspired Dr. Kara Johnson to start a practice in Alaska and what led to the center's success?
Dr. Johnson shares her reasons for creating the Gift of Sight nonprofit
Dr. Johnson's focus on preventing the effects of blue light on eyesight and the body
How Dr. Johnson's telehealth company, Troy Medical, helps provide specialty medical care to patients in remote areas
Where did the name "Troy Medical" come from?
The most impactful piece of advice that Dr. Johnson received from a mentor
The biggest challenge Dr. Johnson has faced and how she overcame it
Dr. Johnson talks about her superpower and shares her contact details
In this episode…
Growing up, the best piece of advice Dr. Kara Johnson ever received was from her mother. She was told that she could do anything she wanted to — and this inspired her to become the woman, entrepreneur, and philanthropist she is today.
Over the years, Dr. Johnson has learned that if you put all your energy and power into doing something, you can achieve so much more than you ever thought you could. With this in mind, Dr. Johnson has become a strong leader who leverages her passion for her work, team, and family to achieve great feats and give back to people in need. 
In this episode of the Lead Like A Woman Show, Andrea Heuston is joined by Dr. Kara Johnson, the Founder of Mountain View Medical Center and Troy Medical, to talk about carving your own path, taking care of your health, and building a successful medical practice. Dr. Johnson talks about the passion behind her success, the challenges she faced building her business, and how she helps correct eye problems through her nonprofit organization.
Resources Mentioned in this episode
Sponsor for this episode…
This episode is brought to you by Artitudes Design by Andrea Heuston. Artitudes Design is an award-winning creative agency that has been creating visual communication for Fortune 500 companies for over 25 years. They have worked with notable companies such as Microsoft, Starbucks, Expedia, and have also served startups and nonprofit organizations.
They specialize in connecting speakers with audiences by creating visual value with presentations and through the creation of motion graphics, video, and content.
To learn more about Artitudes Design, visit their website today. Checkout their portfolio to see their previous projects, and contact them today to find out how they can help you bring your business a cut above the rest.