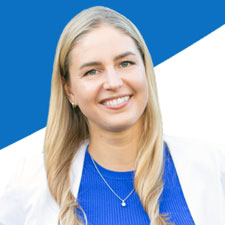 Oksana Esberard is a mental wellness expert, mindfulness and meditation trainer, international speaker, and best selling author. She is the Founder of SattvaMe, a global virtual training organization that's focused on stress management, productivity, and wellness for employees, business leaders, and entrepreneurs. Utilizing her extensive practice and multicultural background, Oksana leads online corporate programs and in-person training in small businesses and Inc 500 companies around the world. She has worked with companies like Microsoft, Sandler's Training, BuzzFeed, YPO, EO, Petra Coach, and New Horizons Computer Learning Centers.
After overcoming her struggles with severe anxiety and suicidal thoughts, Oksana shares her story in her best selling book, Next Level You. She is also a member of EO's Accelerator Program which helps businesses grow through learning and networking.
Here's a glimpse of what you'll learn:
What inspired Oksana Esberard to build a business about managing stress and anxiety and how she came up with its name, SattvaMe
Oksana shares her travel adventures and how they helped her to start her business
Who are the ideal clients for SattvaMe?
Oksana's advice to someone starting a mindfulness practice
What inspired Oksana to write her book, Next Level You
Oksana discusses the crisis of femininity in business and why it's crucial that women have fun and be present as they build and grow their businesses
Oksana talks about a big mistake she made in business and what she learned from the experience
The best pieces of advice Oksana has received from her mentors and her advice to women on building a business while trying to maintain her femininity
Oksana explains why she considers being an interpreter and or a bridge for people to be her superpower
In this episode…
Like other women, Oksana Esberard used to believe that success and stress came as a package deal, that you can't be successful without having gone through a seemingly insurmountable amount of stress. But she learned through vast travel experiences that you can be productive and successful without sacrificing your mental wellbeing. She says that it is possible to work towards your goals and enjoy the material and financial fruits of your labor while being happy with your choices, your interactions with people, and the decisions that you're making.
Oksana advises women to use their feminine power in their businesses to create an energy flow that creates less resistance in everything they do. This will open them up to more business opportunities, attract the right people, and find the best solutions to issues. She also encourages women to go with the flow, express gratitude, and be kind to themselves in every way possible.
In this week's episode of the Lead Like A Woman Show, Andrea Heuston is joined by Oksana Esberard, a mental wellness expert, to find out how women can use their femine power and energy to build better business. Oksana talks about her inspiration to write her book, Next Level You, her journey to founding SattvaMe, and how she helps her clients improve productivity and handle stress. Stay tuned.
Resources Mentioned in this episode
Sponsor for this episode…
This episode is brought to you by Artitudes Design by Andrea Heuston. Artitudes Design is an award-winning creative agency that has been creating visual communication for Fortune 500 companies for over 25 years. They have worked with notable companies such as Microsoft, Starbucks, Expedia, and have also served startups and nonprofit organizations.
They specialize in connecting speakers with audiences by creating visual value with presentations and through the creation of motion graphics, video, and content.
To learn more about Artitudes Design, visit their website today. Checkout their portfolio to see their previous projects, and contact them today to find out how they can help you bring your business a cut above the rest.