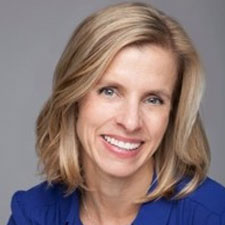 Jenna Lange is the Founder and CEO of Lange International. She specializes in high stakes communications and is a key partner for executives and their teams on how to make the most out of short but critical communication moments. Jenna has been transforming people into great communicators for over 15 years through her work with executives from the world's leading brands. In addition to working with the C-suite, she also coaches sales teams on how to pitch to win key accounts, and takes the stage for keynotes. Her experience crosses countries, industries, and communication challenges.
Jenna is fluent in Spanish and Portuguese and has delivered keynote presentations to global teams throughout Europe, Latin America, and Asia. Jenna's book, Please Don't Picture Them Naked, takes readers on a humorous tour of public speaking do's and don'ts. When she's not working, you can find her running, eating, biking, skiing, or relaxing with her husband and two children.
Here's a glimpse of what you'll learn:
Jenna Lange shares how her climb up Mt. Kilimanjaro led her to take the leap and start her own business 16 years ago
The types of clients that Jenna works with and how she helps them in their businesses.
Jenna explains how she helps people handle tough conversations and how she leads like a woman at Lange International.
How can women represent themselves in order to be the leaders of their lives?
Jenna discusses the role of core values and boundaries in her company, and why she's curious about how the old and new world will come together for future generations.
Jenna talks about her mentors and the best piece of advice she has received from them.
Jenna discusses why fellow women leaders should not be afraid to ask for her things and why her superpower is infusing people with confidence.
In this episode…
Unlike men, most women fail to advance in their careers and leadership roles because they are often afraid to ask for the things they need to move forward in their profession. They fear asking for referrals, asking for that promotion they've been working hard for, and asking for advice from the people who can guide them in their careers.
Jenna Lange encourages women to work on their confidence and be ready to ask for things when the opportunity arises. She helps them network and communicate better, and she also encourages them to explore their world, be curious, be open minded, avoid judging themselves or other women, and get better at encouraging and advocating for other women.
But why is she so passionate about this and how does she apply this to her own life and business?
In this episode of the Lead Like a Woman Show, Andrea Heuston talks to Jenna Lange, Founder and CEO of Lange International, about entrepreneurship and creating your own success. Jenna explains why women leaders should not always say 'Yes' to everyone and everything, why they should advocate for fellow women, and how she leads like a woman in her business which she started 16 years ago. Stay tuned.
Resources Mentioned in this episode
Sponsor for this episode…
This episode is brought to you by Artitudes Design by Andrea Heuston. Artitudes Design is an award-winning creative agency that has been creating visual communication for Fortune 500 companies for over 25 years. They have worked with notable companies such as Microsoft, Starbucks, Expedia, and have also served startups and nonprofit organizations.
They specialize in connecting speakers with audiences by creating visual value with presentations and through the creation of motion graphics, video, and content.
To learn more about Artitudes Design, visit their website today. Checkout their portfolio to see their previous projects, and contact them today to find out how they can help you bring your business a cut above the rest.