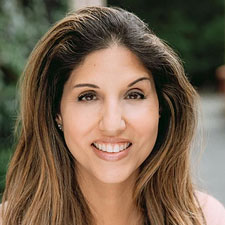 Almira Bardai is a seasoned senior communications professional with over 20 years of experience creating powerful narratives for domestic and global brands. As a thought leader on PR industry issues, Almira is a frequent commentator in the media and is an actively-sought out speaker on both PR and entrepreneurial topics. With an enviable network of influencers and a storied career, Almira's expertise lies in developing strategic communications and social media plans focused on brand experiences, building brand awareness, and user engagement. She's delivered results-driven campaigns for the likes of Granville Island Brewing, Flight Centre, Nike, Best Buy, Future Shop, Molson, and TELUS.
Almira co-founded and was Co-CEO of Jive PR + Digital, one of Canada's top boutique PR and social media agencies. After launching her career as a PR consultant at one of Canada's leading PR agencies, Wilcox Group, she spent many years working abroad as head of global PR at Cobra Beer, one of the UK's fastest-growing beer brands. She's also practiced corporate public relations and communications in both Australia and South Africa. Almira is active as an entrepreneur, consultant, mentor, and board director in organizations such as Brands For Better, Aga Khan Foundation Canada, Entrepreneurs' Organization, and Habitat for Humanity Greater Vancouver.
Here's a glimpse of what you'll learn:
What inspired Almira Bardai and her business partner to start Jive PR + Digital and what led to the company's success
Why Almira decided to exit her business and what she is currently focusing on
Almira shares details about a mistake she made in her business and the lessons she learned from it
How Almira helps support fellow women entrepreneurs and her advice for women who are just starting out
The best piece of advice Almira has received from a mentor
Almira talks about her reasons for going to Australia and South Africa and what she does to live with gratitude every day
Almira's superpower and contact details
In this episode…
As a woman in business and leadership, you create your future. Almira Bardai believes that women need to be intentional about their time, their actions, and the breaks they take so they can continually build toward their future. After living and working abroad and finding it difficult to land a job upon returning to Canada, Almira knew that she had to do something for herself. So she started her own agency with a friend.
Almira advises women who are starting their careers to be flexible and to always say yes. They should volunteer for extra work and give more of their time whenever they can. She encourages them to say yes to new opportunities that come their way because that's how they'll get noticed.
In this week's episode of the Lead Like A Woman Show, Andrea Heuston is joined by Almira Bardai, a thought leadership and communications consultant, to discuss Almira's work supporting women entrepreneurs and her experience living and working in different countries. She also talks about being a member of Entrepreneurs' Organization and living with gratitude every day.
Resources Mentioned in this episode
Sponsor for this episode…
This episode is brought to you by Artitudes Design by Andrea Heuston. Artitudes Design is an award-winning creative agency that has been creating visual communication for Fortune 500 companies for over 25 years. They have worked with notable companies such as Microsoft, Starbucks, Expedia, and have also served startups and nonprofit organizations.
They specialize in connecting speakers with audiences by creating visual value with presentations and through the creation of motion graphics, video, and content.
To learn more about Artitudes Design, visit their website today. Checkout their portfolio to see their previous projects, and contact them today to find out how they can help you bring your business a cut above the rest.