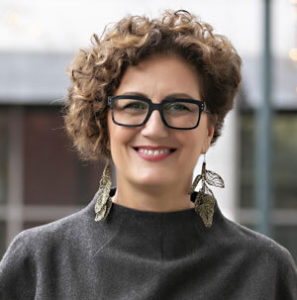 Jean Thompson is the Owner and CEO of Seattle Chocolate Company, makers of the Seattle chocolate and jcoco fine chocolate brands. She has been running Seattle Chocolate for almost 18 years and has grown it from the ruins it was in after the Nisqually Earthquake in 2001 to the successful company that it is today.
A native New Englander, Jean graduated from Bates College before embarking on a career in high tech. Prior to taking over the mantle in Seattle Chocolate Company, she was actively raising her two children in Bellevue, Washington and devoting her free time to nonprofit work. She had previously worked at Microsoft as a Corporate Communications Manager.
Here's a glimpse of what you'll learn:
Jean Thompson talks about shifting from tech to chocolate, why she loves working at Seattle Chocolate, and how they're adjusting to the pandemic
Jean talks about the changes in Seattle Chocolate since she took over and how she came up with their social cause branding
Jean talks about the ingredients she uses and the process of making their chocolate
What most people don't know about Jean and what she wishes she knew when she started working in Seattle Chocolate
Why businesses are personal for women and why having a quality business doesn't equate to a fast-growing company
Jean gives her thoughts on the COVID-19 pandemic and what can be learned from it
Why being decisive is the best advice Jean has received, why it's her business superpower, and the value of trusting experts
Jean's tips on how to run a small company and what makes someone a good leader
Why lack of self confidence stops women from leading and how they can overcome it
In this episode…
With no experience in the chocolate industry, Jean Thompson found herself taking leadership of a small chocolate company in Seattle. She was the majority shareholder with a 95% stake after the Nisqually Earthquake of 2001, and it was her love for chocolate, her determination, and her willingness to learn and adapt which drove her desire to turn the company fortunes around.
18 years later, Jean has learned a lot from running the chocolate company and she has evolved her company to have a social branding that impacts and touches many lives.
Andrea Heuston's featured guest in this episode of the Lead Like a Woman Show is Jean Thompson, the woman behind Seattle Chocolate. Tune in as they talk about Jean's transition from the tech industry to the chocolate industry, her shift from being a stay-at-home mum to becoming the owner of a chocolate company, the struggles and challenges women face in creating and leading companies, and why her decisiveness is her undeniable business superpower.
Resources Mentioned in this Episode:
Sponsor for this episode…
This episode is brought to you by Artitudes Design by Andrea Heuston. Artitudes Design is an award-winning creative agency that has been creating visual communication for Fortune 500 companies for over 25 years. They have worked with notable companies such as Microsoft, Starbucks, Expedia, and have also served startups and nonprofit organizations.
They specialize in connecting speakers with audiences by creating visual value with presentations and through the creation of motion graphics, video, and content.
To learn more about Artitudes Design, visit their website today. Checkout their portfolio to see their previous projects, and contact them today to find out how they can help you bring your business a cut above the rest.