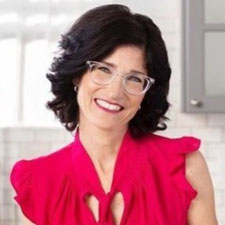 Suzie Yorke is the Founder and CEO of Love Good Fats and is on a mission to bring healthy fats back. A mom, 11-time Ironman competitor, and yoga enthusiast, Suzie spent years adhering to a low-fat diet only to hit a wall in her mid-40s. After reading Nina Teicholz's best-seller, The Big Fat Surprise: Why Butter, Meat and Cheese Belong in a Healthy Diet, she immediately shifted to a high-fat, low-carb diet and felt better right away. While she loved the benefits of her new lifestyle, she found it challenging to find convenient good-fat snacks. Seeing a gap in the marketplace and a huge opportunity to help others through food, she developed Love Good Fats, a company that produces high-fat, low-carb, and low-sugar products. Today, she leads the brand's expansion as it quickly becomes one of the fastest-growing bar brands in North America.
As a 30 year veteran of the CPG industry, Suzie has worked at high-profile companies such as Procter and Gamble, PepsiCo, Kraft, Heinz, and Weight Watchers. Utilizing her accomplished marketing background, personal journey, and deep devotion and passion for health, Suzie is on a mission to spread the word that fat is back — and sugar is out. She has been recognized several times since launching Love Good Fats including the 2019 Mumpreneur Startup Award, 2019 WXN Top 100 BMO Entrepreneur Award, and 2020 RBC Canadian Women Entrepreneur Ones to Watch Award.
Here's a glimpse of what you'll learn:
What drove Suzie Yorke into the food industry?
How Suzie started taking part in Ironman athletics, marathons, and triathlons
How changing jobs affected Suzie's health — and how changing her diet helped solve the problem
What led to the success of Love Good Fats, and what are the most popular products from the brand?
How winning many awards has impacted Love Good Fats
The most impactful piece of advice Suzie has received from a mentor
Suzie's advice to women looking to go into entrepreneurship
Suzie talks about her superpower and shares her contact details
In this episode…
Starting and building a successful business is similar to athletics; you have to start by taking small, directed steps every day and improve as you go along. The most important thing? Just start!
A good entrepreneur does not hang on to her idea for a long time, hoping to start a business someday in the future. Instead, you should start by taking small but well-directed steps towards building the kind of business you dream of. According to Suzie Yorke, you can start by creating samples of the products you envision, and then start production in small batches. This will help you launch your business on a path toward success.
Suzie Yorke, the Founder and CEO of Love Good Fats, is Andrea Heuston's guest in this episode of the Lead Like A Woman Show where she talks about entrepreneurship and building a health-conscious food brand. Suzie also talks about her passion for athletics, her company's most popular products, and how her marketing background helped grow and scale the brand to over $100 million in three years. Stay tuned.
Resources Mentioned in this episode
Sponsor for this episode…
This episode is brought to you by Artitudes Design by Andrea Heuston. Artitudes Design is an award-winning creative agency that has been creating visual communication for Fortune 500 companies for over 25 years. They have worked with notable companies such as Microsoft, Starbucks, Expedia, and have also served startups and nonprofit organizations.
They specialize in connecting speakers with audiences by creating visual value with presentations and through the creation of motion graphics, video, and content.
To learn more about Artitudes Design, visit their website today. Checkout their portfolio to see their previous projects, and contact them today to find out how they can help you bring your business a cut above the rest.