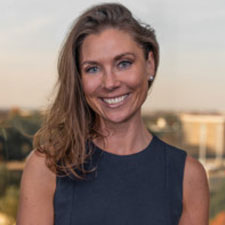 Georgia Green is the Founder and CEO of BEU Revolution which she created with the hopes of sparking a revolution – a movement where people and companies are empowered to thrive. Georgia is the author of leadership curriculum, The Broken Business Model, and she is also a speaker, trusted organizational development advisor, and executive consultant. She is passionate about creating collaborative, strengths-based cultures, and mobilizing teams from inspiration to action.
After solo hiking from Mexico to Canada on a quest to help people overcome fears, Georgia has inspired thousands of people to live their best lives. While walking over 2,000 miles and living in the wilderness for over five months, she wrote the curriculum used to found BEU with the vision to inspire, empower, and ignite others. BEU provides a number of proprietary tools to support organizational development and employee engagement, including MotivIQ, a software platform used to help uncover individual motivators for high achievement and support an organization's ability to engage and retain top talent.
Here's a glimpse of what you'll learn:
Georgia Green talks about what inspired her to change her career and why she went hiking over 2000 miles
How Georgia came up with the 7 elements of life
Georgia talks about her jump from working in accounting to organizational development and leadership coaching
How Georgia's mindset during the hike led to the creation of BEU Revolution
How to deal with life when things don't go as planned
What Georgia learned from taking the long hike and how that has translated to her business
Why some leaders avoid creating and being open to change
The best piece of advice Georgia has received from her mentors and her advice to fellow women leaders
Georgia explains why love and influence are her superpower and what her new book will be about
How to get in touch with Georgia Green and BEU Revolution
In this episode…
When it comes to leadership, some leaders avoid making major changes in their organizations. Oftentimes it's because they allow their fears to hold them back from doing something that could potentially take their business to the next level. And one of these is being afraid of having their ideas or proposals rejected by their employees or fellow leaders in the organization.
However, great leadership requires a person who is willing to go above and beyond, and act even when there is uncertainty. Being a leader requires courage and facing one's fears. And there is no way that you can't become an awesome leader if you are set on staying average and doing what everyone else is doing.
On this episode of Lead Like A Woman Show, Andrea Heuston talks with Georgia Green, Founder and CEO of BEU Revolution, about what it takes to become a great and awesome leader. Georgia also talks about going on a 2,000 mile hike from Mexico to Canada alone, what inspired her to start the BEU Revolution, and she also shares her advice to fellow women leaders. Stay tuned.
Resources Mentioned in this episode
Sponsor for this episode…
This episode is brought to you by Artitudes Design by Andrea Heuston. Artitudes Design is an award-winning creative agency that has been creating visual communication for Fortune 500 companies for over 25 years. They have worked with notable companies such as Microsoft, Starbucks, Expedia, and have also served startups and nonprofit organizations.
They specialize in connecting speakers with audiences by creating visual value with presentations and through the creation of motion graphics, video, and content.
To learn more about Artitudes Design, visit their website today. Checkout their portfolio to see their previous projects, and contact them today to find out how they can help you bring your business a cut above the rest.