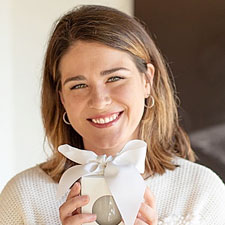 Lou Cysewski is an activist, innovative strategist, and the Co-founder and CEO of the world's first and only climate-neutral marketing and merchandise agency, Coolperx. The company was born out of her conviction to transform the corporate gifting industry from a toxic environmental polluter to a conscious connector of people and values.
Lou served as a nurse in the US Army and speaks regularly about her experiences building her business as a woman and a veteran. She has been featured in Fortune 500, Business Magazine, The Economist, Forbes, and MoneyGeek. She has also been listed as one of the top 100 trailblazing entrepreneurs of 2021. She lives in Seattle with her husband and daughter and currently serves on the board of the Kirkland Art Center. In her spare time, she loves swimming, playing tennis, and has recently begun learning to speak French.
Here's a glimpse of what you'll learn:
What drove Lou Cysewski to entrepreneurship?
How the name "Coolperx" came about
What has led to the success of Coolperx?
How the company promotes sustainable products and minimizes carbon emissions
The ways that Lou leads like a woman
Lou discusses her superpower and how to get in contact with her
In this episode…
For Lou Cysewski, building a value-based business is not only important but also meaningful. Her interest in entrepreneurship pulled her from nursing and took her to the merchandising industry, where she started working with her husband. However, she soon was concerned with the types of products people bought for gifting — and the toxicity found in many of those products. Lou set out to provide a solution to these issues and curate better products for people (and for the environment).
Lou founded Coolperx in a bid to promote sustainability both in her business and in the industry at large. She also created a flexible and fulfilling workplace for her employees that provided inclusivity and matched her values. Want to learn more about how Coolperx is changing the corporate gifting industry?
In this episode of the Lead Like A Woman Show, Lou Cysewski, the Co-founder and CEO of Coolperx, is interviewed by Andrea Heuston about promoting sustainability and building a value-based marketing and merchandise agency. Lou explains how her agency employs carbon offset programs, how she built a fully remote company, and her support of minority-owned businesses. Plus, Lou shares how Coolperx is positively impacting communities across the globe.
Resources Mentioned in this episode
Sponsor for this episode…
This episode is brought to you by Artitudes Design by Andrea Heuston. Artitudes Design is an award-winning creative agency that has been creating visual communication for Fortune 500 companies for over 25 years. They have worked with notable companies such as Microsoft, Starbucks, Expedia, and have also served startups and nonprofit organizations.
They specialize in connecting speakers with audiences by creating visual value with presentations and through the creation of motion graphics, video, and content.
To learn more about Artitudes Design, visit their website today. Checkout their portfolio to see their previous projects, and contact them today to find out how they can help you bring your business a cut above the rest.