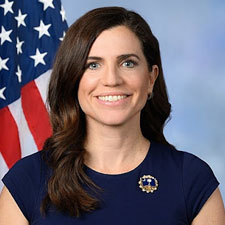 Congresswoman Nancy Mace grew up in the Lowcountry of South Carolina. She is the daughter of a retired Army General and a retired school teacher. Before being sworn into Congress, Nancy earned accolades as one of the most fiscally conservative members of the South Carolina General Assembly. She is also one of the most pro-conservation lawmakers in that state. She grew up in Goose Creek, South Carolina, and dropped out of high school at the age of 17. She immediately became a waitress at the Waffle House. After earning her high school diploma a few months later, she entered The Citadel (the Military College of South Carolina), where she was the school's first female to graduate from its corps of cadets in 1999.
In 2004, Nancy earned a master's degree from the University of Georgia. She is the author of In the Company of Men: A Woman at The Citadel, published by Simon and Schuster in 2001. In 2008, she started her own company. Her background in business is in technology, PR, and marketing, and more recently, commercial real estate before coming to Congress. Amongst her other achievements and responsibilities, Nancy is a single mom of two children, aged 12 and 14. She also has two cats, Tyler and Tiger, and a puppy named Liberty.
Here's a glimpse of what you'll learn:
Congresswoman Nancy Mace's inspiration to start her own business
What went right for Nancy as she started and grew her business?
How growing up in a military family impacted Nancy's life — and what she learned from working at Waffle House
Nancy's experience joining The Citadel, being its first female graduate, and how that changed her life
Why women must take up their seats at the table and speak up
Nancy's advice to women dealing with imposter syndrome
Nancy talks about being a Congresswoman and the challenges she faces in her work
Nancy's superpower and how to get in touch with her
In this episode…
Being the first female to graduate from The Citadel, Congresswoman Nancy Mace was taught a lot of valuable life lessons. She learned the importance of being courageous, confident, and believing in herself. Now she's here to empower women to speak up for themselves, for others, and to give a voice to the voiceless.
Nancy advises fellow women leaders to never quit until they achieve what they want. Other people's opinions and perceptions should never define who they are or what they are capable of doing. If a woman doesn't believe in herself, then others will not believe in her and her abilities.
Congresswoman Nancy Mace is Andrea Heuston's guest in this episode of the Lead Like A Woman Show where she talks about being the first female to graduate from The Citadel and how that impacted her work in Congress. Nancy also talks about her experience growing up in a military family, the lessons she learned from working as a waitress at Waffle House, and how she runs her own business. Stay tuned.
Resources Mentioned in this episode
Sponsor for this episode…
This episode is brought to you by Artitudes Design by Andrea Heuston. Artitudes Design is an award-winning creative agency that has been creating visual communication for Fortune 500 companies for over 25 years. They have worked with notable companies such as Microsoft, Starbucks, Expedia, and have also served startups and nonprofit organizations.
They specialize in connecting speakers with audiences by creating visual value with presentations and through the creation of motion graphics, video, and content.
To learn more about Artitudes Design, visit their website today. Checkout their portfolio to see their previous projects, and contact them today to find out how they can help you bring your business a cut above the rest.