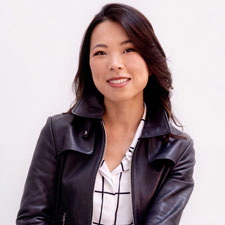 Cherry Lao is the Co-founder and Creative Director of Citizen Best, an international brand marketing agency with offices in San Francisco, Los Angeles, and Bangkok. She draws design inspiration from different cultures, traditions and everyday beauty. Since moving from Bangkok to California, she sees imagery, colors, storytelling, graphics, and symbols as a way to understand cultural differences and bring nuance and clarity to communication.
Cherry is a collaborator first and foremost. She creates inspiring solutions and guides clients through every step of the creative process, providing the necessary rationale for all design elements and strategies. Whether she is directing a photo shoot, developing a fresh concept or offering art direction to existing designs, she believes her role as a creative leader is about elevating the team, not the individual. Outside of work, Cherry can be found with a local dance community, immersing herself in another form of self-expression. She is also involved in entrepreneurial organizations and encouraging diversity in business leadership.
Here's a glimpse of what you'll learn:
What inspired Cherry Lao to start her own design agency business and how she went about expanding it to 3 different locations.
Cherry talks about working virtually and the types of clients she works with at Citizen Best
The role curiosity and diversity have played in Cherry's life.
Cherry's work as Diversity and Inclusion Chair at Entrepreneurs' Organization and Women of EO Chair for the San Francisco chapter.
The questions that Cherry constantly asks herself and her team.
Why starting the creative process with a blank page is the most challenging part of Cherry's job at Citizen Best and why she loves being able to bring a vision to life
Cherry talks about a big mistake she made in her career and what she learned from it.
Cherry's advice to other women on moving outside their comfort zones.
Cherry explains why her superpower is being good at understanding ideas and how people can get in touch with her.
In this episode…
In business, many women tend to fear doing things outside their comfort zones because of their innate fear of making mistakes. They stress over the decisions they need to make and this often limits their opportunities and chances for great success. They fail to see mistakes as a way of learning from them.
Challenges are inevitable and leaders have to find the right solutions to tackle them. It would be helpful for them to surround themselves with people who will offer them support, inspire them, and share their expertise; people who will help them uncover great ideas and possibilities for their business. But more importantly, women need to learn to explore their curiosity and find comfort in discomfort because this will lead them to new discoveries about themselves and will open doors that they probably never even thought to consider before.
In this episode of the Lead Like a Woman Show, Andrea Heuston is joined by Cherry Lao, Co-founder and Creative Director of Citizen Best, to talk about the importance of women being curious and believing in themselves. Cherry shares her background in design, explains what she learned from her parents' business and determination to succeed, the questions she often asks herself and her team, and the role curiosity and diversity has played in her life.
Resources Mentioned in this episode
Sponsor for this episode…
This episode is brought to you by Artitudes Design by Andrea Heuston. Artitudes Design is an award-winning creative agency that has been creating visual communication for Fortune 500 companies for over 25 years. They have worked with notable companies such as Microsoft, Starbucks, Expedia, and have also served startups and nonprofit organizations.
They specialize in connecting speakers with audiences by creating visual value with presentations and through the creation of motion graphics, video, and content.
To learn more about Artitudes Design, visit their website today. Checkout their portfolio to see their previous projects, and contact them today to find out how they can help you bring your business a cut above the rest.