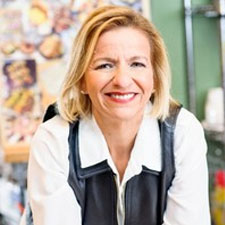 Andrea Herrera is the Founder and President of Amazing Edibles Catering, an award-winning catering company that fosters relationship building at ground breaking events. She has served over a million meals in Chicago in the past 25 years and her personal mission is to foster connection to create community. Andrea is also the founder and president of Boxperience, a business that delivers an amazing invitation to a shared experience over food and drink in a customized gift box.
Andrea is a proud global leader in the Entrepreneurs' Organization, a global organization with 15,000 members. She has also served on the boards of Cornell College, Global Citizenship Experience Lab High School, A Children's Place, and she is currently Chair of the Board of Rivendell Theatre Ensemble, a theater dedicated to advancing the lives of women through theatre.
Andrea has been profiled in Hispanic Living Magazine, CNN Money, MSNBC, Chicago Tribune, Today's Chicago Woman, and in the book From Risk to Reward, profiling her entrepreneurial journey.
Here's a glimpse of what you'll learn:
Why Andrea Herrera decided to start a catering company and how she grew it to become one of the biggest catering companies in Chicago.
Andrea Herrera talks about pivoting her business to create Boxperience
How being in the Entrepreneurs' Organization (EO) has helped Andrea Herrera's business.
Why the business pivots in light of the COVID-19 pandemic is crucial for small businesses.
Andrea Herrera talks about the places she loves to travel to and shares an interesting story from her catering work.
Why Andrea Herrera is most curious about what the next 6 to 12 months will be like for everyone.
Andrea Herrera's advice to fellow women entrepreneurs and people looking to pivot their businesses.
Andrea Herrera explains why connecting people is her superpower.
How to get in touch with Andrea Herrera.
In this episode…
In the current health crisis the world is going through, many entrepreneurs and company executives have seen their leadership put to the test. A lot of them have found creative ways to pivot their services and product offerings as the pandemic continues to progress. And while this is a testament of grit and determination to succeed against the odds, it also comes with a new set of challenges.
According to Andrea Herrera, one of the best decisions people looking to start new businesses or to pivot existing ones should do is to act fast. The world is moving quickly and no one cannot afford to sit back for months before taking action and committing to a decision. She also says that asking for help from trusted advisors can make the decision making process a lot easier.
In this week's episode of the Lead Like a Woman Show, Andrea Heuston talks with Andrea Herrera, Founder and President of Amazing Edibles Catering, about how she pivoted her business and why it was one of the best decisions she has made. Andrea Herrera also shares the benefits of being a member of the Entrepreneurs' Organization (EO) and Women of EO, what she learned from catering for Oprah Winfrey, and her advice to fellow entrepreneurs who want to start a business or pivot an existing one. Stay tuned.
Resources Mentioned in this episode
Sponsor for this episode…
This episode is brought to you by Artitudes Design by Andrea Heuston. Artitudes Design is an award-winning creative agency that has been creating visual communication for Fortune 500 companies for over 25 years. They have worked with notable companies such as Microsoft, Starbucks, Expedia, and have also served startups and nonprofit organizations.
They specialize in connecting speakers with audiences by creating visual value with presentations and through the creation of motion graphics, video, and content.
To learn more about Artitudes Design, visit their website today. Checkout their portfolio to see their previous projects, and contact them today to find out how they can help you bring your business a cut above the rest.