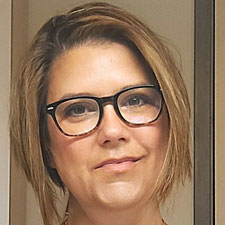 Andrea Duffield is the Chief Executive Officer at Bridgeways. Over the span of 15 years as a speech-language pathologist, she obtained her MBA and went on to start and run her own business, Mosaic Rehabilitation. Mosaic provided speech, physical and occupational therapy, behavioral health, psychology, and counseling services in four clinical locations across the Seattle area. During her time there, Andrea was recognized as the Outstanding Treatment Provider by FEAT of Washington and the Nellie Cashman Business Woman of the Year. She also received accolades for her entrepreneurial acumen from the Puget Sound Business Journal, American Business Awards, and 425 Magazine.
After exiting Mosaic in 2019, Andrea transitioned into the nonprofit arena and is now serving as the CEO at Bridgeways in Everett, Washington. Bridgeway's mission is to provide services that promote quality of life for individuals living with mental health concerns in a manner that facilitates growth, independence, and a sense of community.
Here's a glimpse of what you'll learn:
Andrea Duffield talks about working at Bridgeways and how they create change in the community
Andrea's love for working with underserved communities
What went right for Andrea in her life journey and in her career
What does resilience mean to Andrea and how does she lead like a woman?
The best piece of advice Andrea has ever received
Andrea's advice to a woman struggling to be resilient
Andrea talks about her superpower and shares her contact details
In this episode…
Do you struggle with perfection? Do you find yourself trying to be the best person for everyone all of the time?
Unknown to many women, the desire for perfection often has a negative impact on their lives. This makes them struggle in both their personal and professional lives, unlike men who are more willing to make mistakes. The truth is, you don't have to be the best all of the time — you're allowed to make mistakes and give yourself grace.
In this episode of the Lead Like A Woman Show, Andrea Heuston interviews Andrea Duffield, the Chief Executive Officer at Bridgeways, about the value of resiliency and serving underprivileged communities. Andrea also talks about the best way to manage employees, how being a mother has impacted her life, and how she leads with strength. Stay tuned.
Resources Mentioned in this episode
Sponsor for this episode…
This episode is brought to you by Artitudes Design by Andrea Heuston. Artitudes Design is an award-winning creative agency that has been creating visual communication for Fortune 500 companies for over 25 years. They have worked with notable companies such as Microsoft, Starbucks, Expedia, and have also served startups and nonprofit organizations.
They specialize in connecting speakers with audiences by creating visual value with presentations and through the creation of motion graphics, video, and content.
To learn more about Artitudes Design, visit their website today. Checkout their portfolio to see their previous projects, and contact them today to find out how they can help you bring your business a cut above the rest.