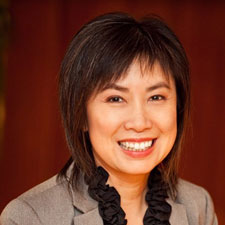 Alice Tang is a Partner and Vice President at BPG Wealth Management, a full-service, multi-generational financial planning firm in Oregon. As a top female producer in the financial industry and a sought-after speaker, Alice has formed her business and success by focusing on creating and deepening relationships one connection at a time. Alice realized that relationships are the key to success by watching her father build a business out of his humble beginnings in Hong Kong.
Alice was the first in her family to earn a college degree when she graduated from the University of London, where she met her husband. She emigrated to the US without a network, family, or community and started a career in financial advising. When it became clear that the time-tested methods for running a business weren't scalable, Alice created her own system. She now helps other professionals catapult their success and networks through her no-nonsense approach to developing connections.
Here's a glimpse of what you'll learn:
Alice Tang talks about moving to the US, her struggles, and how she got a green card
How Alice got into the financial services sector and what led to her success
Alice talks about making cold calls, what she learned about referrals, and how to build a better business through networking
How Alice got into professional speaking and why it's helped build her network
What Alice plans to write about in her upcoming book
Alice talks about a challenging moment she experienced on stage and how she handled it
Why Alice is focusing on clarity this year
The best piece of advice Alice has received from a mentor and her advice for other women
Alice's superpower and contact details
In this episode…
Life can sometimes be challenging. And no matter how much you might wish things were different, reality perseveres. However, you can still make the best of a bad situation. By accepting what you can't change, you'll be able to refocus your energy where it's needed.
When Alice Tang moved to the US with her husband, adapting to the new environment was difficult. She couldn't work, didn't have a safety net, and could feel the tension building at home. Instead of giving up, Alice sought out solutions. Eventually, she changed her visa status, went back to school, and started a new career. Instead of allowing her circumstances to hold her back, she used them to push herself forward.
In this episode of the Lead Like A Woman Show, Andrea Heuston is joined by Alice Tang, a Partner and Vice President at BPG Wealth Management, to talk about the value of networking and building a business through good relationships. Alice shares her experience of starting over after immigrating to the US, how she got into professional speaking, and her advice to women wishing to jump-start their lives.
Resources Mentioned in this episode
Sponsor for this episode…
This episode is brought to you by Artitudes Design by Andrea Heuston. Artitudes Design is an award-winning creative agency that has been creating visual communication for Fortune 500 companies for over 25 years. They have worked with notable companies such as Microsoft, Starbucks, Expedia, and have also served startups and nonprofit organizations.
They specialize in connecting speakers with audiences by creating visual value with presentations and through the creation of motion graphics, video, and content.
To learn more about Artitudes Design, visit their website today. Checkout their portfolio to see their previous projects, and contact them today to find out how they can help you bring your business a cut above the rest.