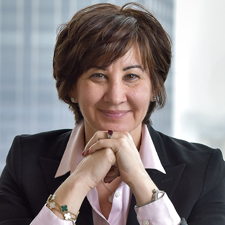 Fran Biderman-Gross is the Founder and CEO of Advantages, an award-winning New York-based end-to-end communications agency. She is also the co-author of the book, How to Lead a Values-Based Professional Services Firm: 3 Keys to Unlock Purpose and Profit, which she wrote with Don Scales. She is also the creator of the groundbreaking 3 Keys Workshops.
Fran leads her clients on an invaluable journey of brand discovery that reveals their personal and organization's 3 keys: Purpose, Values, and Story. Since its inception, she has used her proprietary '3 Keys' approach to help propel the enduring success of hundreds of companies–including her own. Her workshops, lectures, and keynotes draw on more than two decades of marketing and branding expertise to inspire audiences and provide leaders actionable lessons that any organization can implement to bring any vision closer to becoming reality.
Here's a glimpse of what you'll learn:
What prompted Fran Biderman-Gross to start her company, Advantages, 28 years ago.
Fran talks about losing her husband and how her business was affected by the 9/11 crisis.
Andrea shares what it was like to start her own business, Artitudes Design.
Fran talks about meeting Simon Sinek and how the encounter impacted her life.
Fran talks about taking part in a logo competition and working with Don Scales and co-writing the book, '3 Keys to Unlock Purpose and Profit'.
Fran's advice to fellow women in the business world.
Fran explains why her internal belief and taking risks are her superpowers.
How to get in touch with Fran Biderman-Gross.
In this episode…
At 33 year old, Fran Biderman-Gross found herself a widow with 2 young kids after losing her husband to cancer. And to top that all off, the 9/11 tragedy struck two months later, making her lose about 60% of their business. She fell into depression but realized early on that she had to be strong and fight her way through the biggest storm of her life. She decided to downsize her team and work with what she had and start rebuilding her brand.
These tragedies and other life events forced Fran to be resilient and find strength within herself. She turned inwards and held on to her belief in herself and in what she can do, and she learned to make bold decisions that left a positive impact on whoever she touches. She also built on her belief on what others can do and decided to take risks in the process of building things back up from the ground.
In this week's episode of the Lead Like a Woman Show, Andrea Heuston interviews Fran Biderman-Gross, Founder and CEO of Advantages, about her entrepreneurial journey and rising through the biggest and hardest challenges that she faced in life. Fran also talks about meeting and working with Simon Sinek, writing a book with Don Scales, and her 3 keys to living a purposeful and profitable life.
Resources Mentioned in this episode
Sponsor for this episode…
This episode is brought to you by Artitudes Design by Andrea Heuston. Artitudes Design is an award-winning creative agency that has been creating visual communication for Fortune 500 companies for over 25 years. They have worked with notable companies such as Microsoft, Starbucks, Expedia, and have also served startups and nonprofit organizations.
They specialize in connecting speakers with audiences by creating visual value with presentations and through the creation of motion graphics, video, and content.
To learn more about Artitudes Design, visit their website today. Checkout their portfolio to see their previous projects, and contact them today to find out how they can help you bring your business a cut above the rest.