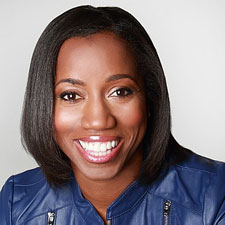 Adrienne Smith is a Team USA football star leading the charge for the new AFL women's division. She is among the best performing wide receivers in women's tackle football history. Adrienne is a Boston Renegades wide receiver, football advocate and spokesperson, Orange is the New Black actress, and entrepreneur. She is also the creator of Blitz Champz, a fun and competitive game that teaches and tests football knowledge, strategy, and critical math skills.
Adrienne's professional career began in Japan where she worked as a translator and coordinator of international relations for the Japanese Board of Education. During her two years in this position, she produced and co-hosted a local television show geared towards educating Japanese people about American culture.
Adrienne started her football career in 2006 as a member of the New York Sharks and went on to compete internationally, bringing home silver medals in Sweden and Canada as a member of the US Women's National Flag Football team. In 2010 and 2013, Adrienne helped the US National Women's Football team bring home the gold medal in the International Federation of American Football's Women's World Championship. Since 2011, she has played for the Boston Renegades, a tackle football team in the Women's Football Alliance and winner of national championships in 2011, 2014, and 2019.
Here's a glimpse of what you'll learn:
What inspired Adrienne Smith to go into football
The creation of Gridiron Queendom and how it has inspired girls
What went right for Adrienne when she started playing football?
Adrienne explains how Blitz Champz, her football card game, helps kids learn math
Adrienne's experience in Japan and why she started a TV show there
How Adrienne got to act in Orange is the New Black, why she decided to do hip hop tours, and the exciting projects she is currently working on
How Adrienne leads like a woman and the best piece of advice she has received from a mentor
Adrienne talks about her superpower and shares her contact details
In this episode…
Working in male-dominated fields is often a challenge many women face, even when they are highly skilled and qualified. They frequently face backlash and pressure from society — which can kill their dreams.
When Adrienne Smith decided to go into football, she knew she would face such challenges. However, she did not quit, and her determination helped her excel in not only football but also in her career as an actress, entrepreneur, and leader.
Adrienne Smith, an entrepreneur and football star, is Andrea Heuston's guest in this episode of the Lead Like A Woman Show. Adrienne talks about her professional career in football and her journey to become an entrepreneur. She also talks about her football card game for kids, her work as an actress, organizing hip hop tours, and how she leads like a woman. Stay tuned.
Resources Mentioned in this episode
Sponsor for this episode…
This episode is brought to you by Artitudes Design by Andrea Heuston. Artitudes Design is an award-winning creative agency that has been creating visual communication for Fortune 500 companies for over 25 years. They have worked with notable companies such as Microsoft, Starbucks, Expedia, and have also served startups and nonprofit organizations.
They specialize in connecting speakers with audiences by creating visual value with presentations and through the creation of motion graphics, video, and content.
To learn more about Artitudes Design, visit their website today. Checkout their portfolio to see their previous projects, and contact them today to find out how they can help you bring your business a cut above the rest.