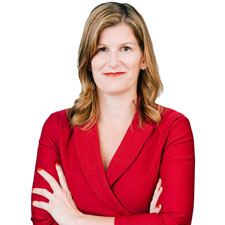 Sarah Nichols is an attorney who has more than 20 years of experience in HR employment law. She is the founder of Nichols Law P.C. where she represents individuals who experience discrimination and retaliation at work and helps them with wage and hour claims. She assists employees in negotiating their exits from their employers and she is a tough and conscientious advocate for her clients. Sarah believes that having experience on both sides makes her a better attorney.
Sarah is passionate about different cultures in the workplace and in closing the pay gap. She is also involved in the community through her work with Youth Speaks, an educational non-profit empowering youth through the spoken word. A percentage of her firm's profits is donated to Equal Rights Advocates every year as she believes the work that organization does is essential to closing the wage gap.
Sarah is also the host of The Women's Advocate podcast where she discusses how women can negotiate and support each other to close the wage gap.
Here's a glimpse of what you'll learn:
Sarah Nichols' career background and how she ended up starting her own law firm
The difference between running one's own firm versus working in a bigger law firm
What has driven Sarah's success in her law firm and the types of cases she handles
What inspired a 12-year old Sarah Nichols to become a lawyer and move to the US?
The focus of Sarah Nichols' podcast, The Women's Advocate
The most challenging part of Sarah's job and what she loves most about it
Sarah talks about a big mistake she did and what she learned from it
Sarah talks about mentors, the best piece of advice she has received from them, and her advice to fellow women leaders and entrepreneurs
Sarah explains why her passion is her superpower
In this episode…
When someone is looking to go into business or is considering taking up a new leadership position, most people tend to wait too long because they want to feel that they're ready before taking the plunge. The thing is, there is never a "perfect time" to take that leap because all you really need is to have courage.
In every situation or circumstance, there is always a decision to be made. And if that decision can be made quicker, it can help propel people forward to where they want and need to go. Staying focused on your story and your path are also crucial in making your success into a reality. It is also important to be focused and own your story and path.
Sarah Nichols, Founder of Nichols Law P.C., is Andrea Heuston's guest in this week's episode of Lead Like a Woman, where she talks about the importance of women taking the leap in their careers and not waiting for the perfect time. Sarah shares details about her career history and why she decided to move to the US from Australia and start her own law firm, what drives her success, and she also shares her advice for women leaders and entrepreneurs. Stay tuned.
Resources Mentioned in this episode
Sponsor for this episode…
This episode is brought to you by Artitudes Design by Andrea Heuston. Artitudes Design is an award-winning creative agency that has been creating visual communication for Fortune 500 companies for over 25 years. They have worked with notable companies such as Microsoft, Starbucks, Expedia, and have also served startups and nonprofit organizations.
They specialize in connecting speakers with audiences by creating visual value with presentations and through the creation of motion graphics, video, and content.
To learn more about Artitudes Design, visit their website today. Checkout their portfolio to see their previous projects, and contact them today to find out how they can help you bring your business a cut above the rest.