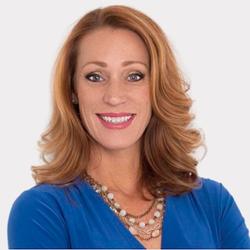 Amy Boone Thompson is the Owner and Chief Executive Officer of IDEA Health & Fitness Association. She has a three-decade career as a fitness professional, wellness advocate, and business owner leader. Amy has held every role from practitioner to presenter to executive, and leads from a place of connection, service, and purposeful impact. Her early experience training women to be the best versions of themselves in body, mind, and spirit set the foundation for an incredible professional trajectory.
Amy was named the 2019 IDEA Fitness Leader of the Year before she took over as Vice President and later CEO and Owner. She was also a nominee in the San Diego Business Journal's Women Who Mean Business, an award that recognizes dynamic women business leaders who have demonstrated significant contributions to the local economy. She has served on numerous industry committees and currently sits on the California Fitness Alliance Advisory Council. Amy was just appointed as Vice Chair of the World Active Forum to work alongside the World Health Organization in uniting global efforts to promote physical activity. Her husband and children, along with a very supportive extended family, help keep her grounded.
Here's a glimpse of what you'll learn:
Amy Boone Thompson's inspiration to acquire IDEA Health & Fitness Association and her experience celebrating the company's 40-year anniversary
What led to the success of Amy's business?
The best piece of advice Amy has received from a mentor and how she incorporates it in her business
Amy's advice to a woman on leading with curiosity
How Amy trains, inspires, and empowers women
Amy's goals and future plans for IDEA Health & Fitness
The role athletics plays in Amy's life and business
Amy explains how she leads her company and talks about her superpower
In this episode…
What does it mean to lead a business with character? How can you gain clarity and create an efficient structure for running your business?
For Amy Boone Thompson, leading a business with character means tapping into your curiosity and leading with kindness, respect, and care. Having spent many years as an athlete, she has learned the value of working in a team and showing up with grit. She encourages leaders to be coachable, lead with confidence, and empower others to succeed.
In this episode of the Lead Like A Woman Show, Andrea Heuston interviews Amy Boone Thompson, the Owner and Chief Executive Officer of IDEA Health & Fitness Association. Amy explains what it means to lead with character, curiosity, and confidence. She also discusses the role athletics play in her life and business and shares her future plans for IDEA Health & Fitness Association.
Resources Mentioned in this episode
Sponsor for this episode…
This episode is brought to you by Artitudes Design by Andrea Heuston. Artitudes Design is an award-winning creative agency that has been creating visual communication for Fortune 500 companies for over 25 years. They have worked with notable companies such as Microsoft, Starbucks, Expedia, and have also served startups and nonprofit organizations.
They specialize in connecting speakers with audiences by creating visual value with presentations and through the creation of motion graphics, video, and content.
To learn more about Artitudes Design, visit their website today. Checkout their portfolio to see their previous projects, and contact them today to find out how they can help you bring your business a cut above the rest.