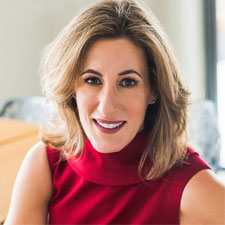 Mary Abbajay is the Author of the best-selling book Managing Up: How to Move Up, Win at Work, and Succeed with Any Type of Boss. She is also the President of Careerstone Group, a full-service organizational and leadership development consulting agency that provides facilitation, training, consulting, and coaching services to businesses and government entities.
Mary is a highly-regarded author, speaker, consultant, and trainer, helping clients develop the strategies and skills needed to stimulate professional and personal excellence, growth, and success in the 21st-century workplace. She is also the Co-host of the workplace advice podcast Cubical Confidential and is a contributor for television, radio, and print publications, with her work and advice appearing in the New York Times, Harvard Business Review, and Forbes, among others.
Here's a glimpse of what you'll learn:
What Mary Abbajay learned about running a consulting firm from her early career as a bar and grill owner
Mary and Andrea Heuston discuss their versions of authenticity in the workplace
Tips for managing workplace relationships
How Mary leads like a woman
The most influential piece of advice Mary has received — and her advice for women who are unhappy in their job
What is Mary's superpower?
In this episode…
Are you a junior staff member on your team who feels like your boss isn't valuing your ideas? Are you a senior member of your team feeling dissatisfied with your job?
Mary Abbajay is a trusted author and consultant with over 20 years of leadership experience. As a former bar and grill owner, her background helped her launch Careerstone Group, an organizational leadership consulting firm focused on helping companies create effective and productive workplaces. Now, Mary is here to make sure that you can take control of your own career. You'll learn tips on maintaining a positive workplace attitude to manage relationships, make professional decisions, and communicate effectively, straight from her best-selling book Managing Up.
In this episode of the Lead Like a Woman Show, Andrea Heuston joins Mary Abbajay, Author of Managing Up and President of Careerstone Group, to discuss personal workplace authority. Mary talks about maintaining control of your career, how to navigate professional relationships effectively, and how to persist in your role.
Resources Mentioned in this episode
Sponsor for this episode…
This episode is brought to you by Artitudes Design by Andrea Heuston. Artitudes Design is an award-winning creative agency that has been creating visual communication for Fortune 500 companies for over 25 years. They have worked with notable companies such as Microsoft, Starbucks, Expedia, and have also served startups and nonprofit organizations.
They specialize in connecting speakers with audiences by creating visual value with presentations and through the creation of motion graphics, video, and content.
To learn more about Artitudes Design, visit their website today. Checkout their portfolio to see their previous projects, and contact them today to find out how they can help you bring your business a cut above the rest.