You Cannot Sit on Two Toilet Seats at the Same Time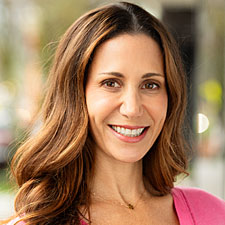 Sari Davidson is the Owner, Founder, and CEO of BooginHead. What she built in her kitchen in 2005 has grown into a globally distributed brand of stylish baby essentials trusted by parents around the world to keep their babies safe, comforted, and soothed. With innovation and drive, BooginHead has claimed and maintained its space in the hyper-competitive juvenile market industry next to giants such as Munchkin, Newbie, and Dr. Brown's.
Sari and the company have been recognized as Puget Sound Business Journal's Fastest-Growing Business and as a 2020 Innovator of the Year, Fortune's Most Powerful Woman Entrepreneur, Babble's Top 50 Mompreneurs, and as a Finalist for The Nellie Cashman Award. Sari has been featured on HuffPost, The Wall Street Journal, LadyBossBlogger, Medium, Inc., and 425 Business Magazine as their powerhouse entrepreneur who is changing the business landscape in Washington state.
Here's a glimpse of what you'll learn:
What inspired Sari Davidson to leave Microsoft and go into entrepreneurship?
Sari explains what BooginHead means and how she grew the business organically
The company's first product and the people that helped with product manufacturing
How Sari juggles a professional career with motherhood
Sari talks about her hiring ability, the most impactful piece of advice she has received, and her advice to fellow women looking to do something new
Sari's superpower and how to get in touch with her
In this episode…
If you are an entrepreneur and have been struggling to work on two or more business ideas at the same time, then you are sitting on two toilet seats at the same time. When you do that, you fail to give each idea the attention it needs and cannot complete it to your best ability.
Most entrepreneurs tend to work on many business ideas at once — and this can have a negative effect on their efforts. Sari Davidson found herself doing this while simultaneously working at Microsoft and managing a growing business. After some time, she realized that she had to let go of one to put her whole heart in the other.
In this episode of the Lead Like A Woman Show, Andrea Heuston is joined by Sari Davidson, the Owner, Founder, and CEO of BooginHead, to talk about managing life and a growing business. Sari explains the process of starting her own business, how working full time at Microsoft helped her to bootstrap the business, and how she juggles a professional career with motherhood. Stay tuned.
Resources Mentioned in this episode
Sponsor for this episode…
This episode is brought to you by Artitudes Design by Andrea Heuston. Artitudes Design is an award-winning creative agency that has been creating visual communication for Fortune 500 companies for over 25 years. They have worked with notable companies such as Microsoft, Starbucks, Expedia, and have also served startups and nonprofit organizations.
They specialize in connecting speakers with audiences by creating visual value with presentations and through the creation of motion graphics, video, and content.
To learn more about Artitudes Design, visit their website today. Checkout their portfolio to see their previous projects, and contact them today to find out how they can help you bring your business a cut above the rest.