[Women of Wine] It's Not About What We're Handed, But How We Handle It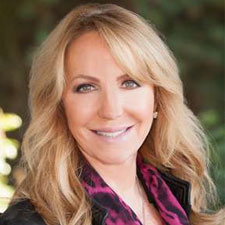 Stacy Lill is the Co-founder and CEO of Cashmere Partners, focusing her efforts on corporate networking, marketing and strategic partnerships. She provides strategic consulting in wine industry education and development for many wineries. In 2007, she founded O Wines, which she sold to Chateau Ste Michelle Winery. After the sale of O Wines, Stacy founded the Opportunity for Success Scholarship Program which funds educational college scholarships for deserving young women. To date, they have awarded 71 full scholarships.
Stacy's career includes 25 years of sales and marketing experience for numerous Fortune 500 companies including Ernst and Young. She has received many honors including the Women's University Club Businesswoman of the Year, Soroptimist Award for Outstanding Community Service, Women for Wine Sense National Rising Star Award, Seattle Magazine's Community Service Award, and the Puget Sound Business Journal Woman of Influence Award. She is highly regarded for her philanthropic efforts and is known as a community leader in both business and philanthropy.
Stacy is a graduate of University of Washington, a member of the International Women's Forum, and most recently became a founding member of the Puget Sound Business Journal's Leadership Trust. Ensuring young women have an opportunity for quality education is a pillar in Stacy's legacy.
Recently, Stacy and her husband, Greg, recently co-founded Lill Family Wines as another brand in their wine portfolio.
Here's a glimpse of what you'll learn:
Stacy Lill talks about how she started in the wine industry 25 years ago.
Stacy explains how the O Wines brand led to a scholarship program for women.
How students can find and apply for the Opportunity for Success Scholarship Program.
Stacy discusses the motivation behind Lill Family Wines and Cashmere Partners.
How Stacy chooses who to serve in her philanthropy work.
Benefits of having mentors and some of the best advice Stacy has received from her mentors.
Stacy's advice to other women who are interested in working in the wine industry.
Stacy shares her curiosity on what the future looks like for families, businesses, and industries.
Why Stacy's superpower is connecting people.
In this episode…
Wine is a delicious and wonderful way of bringing people together. It's capable of connecting people from different walks of life and different industries, and allows them to enjoy something good together. The wine industry is also an incredibly inclusive industry, allowing both men and women to contribute to its growth through their individual knowledge and skill sets.
While it is a fun industry to be a part of, it is not for the faint of heart. It takes determination and a lot of collaboration, and it often challenges people to go beyond their known limits. But once you learn the ropes and fully immerse yourself in all the things it has to offer–both the good and the bad–it's not impossible to find success. Of course, it all really depends on how you handle the cards that you're dealt with.
In this week's episode of the Lead Like a Woman Show, Andrea Heuston interviews Stacy Lill, the Co-founder and CEO of Cashmere Partners, about entrepreneurship, marketing, and wine. Tune in as they discuss Stacy's career in the wine industry and the new brands that she has recently launched with her husband, the scholarship program she offers for college kids, and her best tips for success in the wine industry.
Resources Mentioned in this episode
Sponsor for this episode…
This episode is brought to you by Artitudes Design by Andrea Heuston. Artitudes Design is an award-winning creative agency that has been creating visual communication for Fortune 500 companies for over 25 years. They have worked with notable companies such as Microsoft, Starbucks, Expedia, and have also served startups and nonprofit organizations.
They specialize in connecting speakers with audiences by creating visual value with presentations and through the creation of motion graphics, video, and content.
To learn more about Artitudes Design, visit their website today. Checkout their portfolio to see their previous projects, and contact them today to find out how they can help you bring your business a cut above the rest.